I'm sure we all have noticed monthly subscription boxes that are booming everywhere it seems. Whether it's home items, makeup, clothing or food, there seems to be something for everyone. My former roommate was a Stitchfix fan. I will admit, I lived vicariously through her each month and watched her model the items and decide which ones to keep and send back. I thought to myself how much fun that was, but I couldn't afford something like that. I'm a clearance rack shopper, especially as a student with loan debt and no income. However, there is something I have a weakness to and that is athletic clothes. So about a year ago I noticed Fabletics and thought about how I would love to try it out. Not only do I practically live in athletic clothes, but my future career is in athletics so you can pretty much find me in workout gear 24/7.
I started my dietetic internship in January and was located to a very small town that pretty much has a Walmart and JCPenney. I knew I wouldn't be doing much shopping but still wanted to get my workout gear fix. So I thought, now is the perfect time to try out this monthly subscription.
Why I LOVE Fabletics
You don't have to buy anything each month
You get to see items before you buy
You can return anything you don't like
You get points for purchases and reviewing products. Your points now go to redeeming other clothing items
You have 5 days to decide if you want to buy anything from the month, if not you skip the month and no charges are billed to you
The clothes are incredibly soft and thick enough material similar to Lululemon (no see through pants here!)
Customer service is great and they have a live chat with very helpful representatives!
I love Kate Hudson, need I say more
I read that the collections were 75% off and if you got a VIP membership you received all the perks above and a whole outfit for under $25. My first outfit only cost $17 which was worth it to me to try and get 3 items. Even if I hated them, I could cancel the membership or skip each month whenever I wanted. So I truly influence everyone to try at least one month!
So then each month you receive an email with your month's choices picked out for you, along with more suggestions if you don't like your specific outfits picked for you.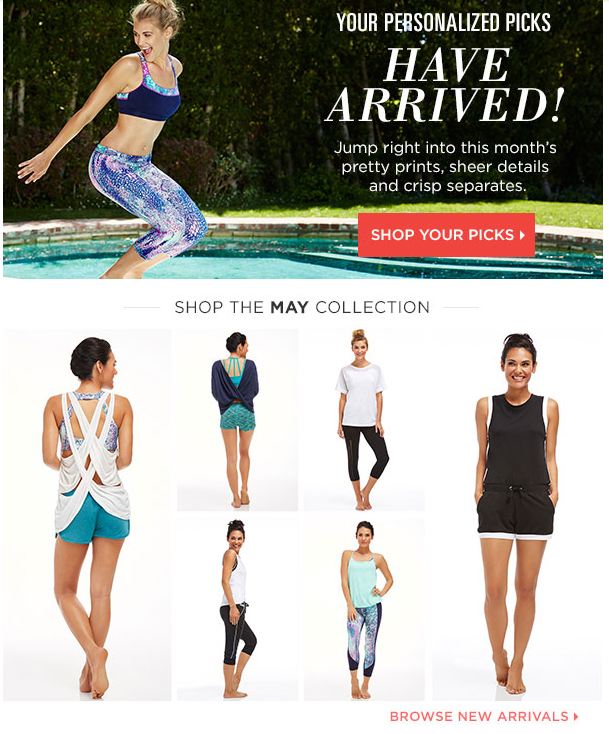 I have part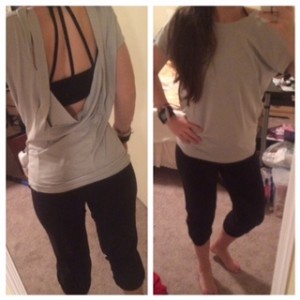 icipated in two months so far and skipped one in the middle.
Some cons to Fabletics
Items tend to be sold out if they have been around for awhile
Sometimes items tend to look very similar, which is why I skipped one month
However they had so many new choices for the month of May, I had too many decisions to choose just one outfit. I am torn between these two options.

So if you love workout clothes as much as me, then you should definitely try Fabletics at least for the first month with the discounted outfits and you can always cancel!
There is no fee to join or become a VIP member, but these are the perks you get for joining as a VIP member, so why wouldn't you?