1. Breakfast: I had a really interesting breakfast this morning. Imagine a banana omelet. I had a recipe that called for 2 eggs and 1 ripe banana. You mix the three together and make pancakes. Of course I ruined the first one, so really I had 1 egg and 1 banana. The weirder part was that I topped it with peanut butter once I got to work because it just tasted like it was missing something.
This deliciousness was 265 calories for one of the pancakes topped with peanut butter. Let me tell you, I thought I would hate it, but I didn't.
2. Cyber Monday: There have been a few things that I have always wanted and when Cyber Monday deals happened, I had a sense of "if not now, when?" I also got a new laptop from my wonderful father and so I got a skin for it and a stylus for the tablet portion. These were my purchases that I blessed myself with and will now stop spending money and hopefully get a second job

3. Half Marathon Hunger: I am hungry to do another half marathon. Cyber Monday had some deals on some races but not good enough deals to make me commit. It's hard to race because of my schedule and I can't make such a long term commitment when I have no idea if I will need to work or not. So intensive planning is going into figuring out which half marathon I can do.
4. Mizzou Football: Not sure if you are aware but Mizzou is holding up in the SEC for Football and I'm blessed to be a part of this experience. They will be playing against Auburn this weekend in Atlanta. Senior night was Saturday and it's crazy to sit and realize how fast the season has passed. I'll definitely miss the guys that will be leaving.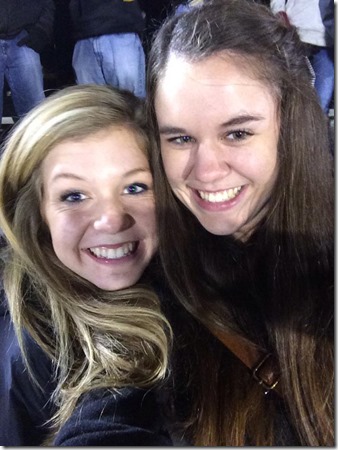 5. This girl above: Honestly, age has never been a factor for me and I have had people in my life I consider friends who are 7 years younger than me and people who are 10+ years older than me. I feel I can mesh well with certain personalities and it doesn't matter what age you are. This girl is no exception. I may be a first year grad student and she may be a senior in high school, but we enjoy each other's company. Our running has bonded us closer and I have recruited her to be my running buddy throughout the winter now that cross country is over for her.
6. Good Women Project: I read a blog entry the other day on this website and found myself spending over an hour just searching the others. Seriously, my life can relate and I can find an article about something I am going through and it reassures me that I'm not alone in anything that I do because if you have God, you always have someone, even when you feel loneliest.
The article: A Letter to My Younger Self by Mary Trenda
Some highlighted points:
Love every inch of you, and DO NOT settle for a man who does not love every inch of you the same.
If you start to let bitterness of any kind creep into your heart – get rid of it.
Do not get caught up in comparing yourself to others.
Give your dreams to God and let Him make of them as He wishes. Do not stand in His way. Make sure though that you do your part and put forth the effort. Work well and work hard. Do not be lazy. He will bless you. Do it all in His name.
Then it led to more and more articles but I think so far, my favorite piece of advice from this website is "You are loved, admired, adored, and taken care of. Forever. The pressure is off. Because you will always be enough to the man that means the most."
7. Enjoy Life: Number six brings me to my final point of discussion and that is to thoroughly enjoy life. To quit worrying. I've always been a firm believer in that there is a plan for me, so why stop now and why start doubting? What is meant to be, will happen, but don't let things take away from being happy. Value meaningful conversations, start new conversations with people you might not talk to a lot, don't worry about finding a boy and surround yourself with the friends you have and maybe even make new friends. The thing I am working on most is "how can I be a better me?" What can I possibly do to be better or do better? What will make me happy most? These are questions I consistently ask myself, especially when I am feeling low or having doubts about my future. I just try and wipe the negative thoughts away and focus on positives and what I can do to create more positives in my life versus the negatives. So I can sit here and throw a pity party by myself because I'm feeling lonely at night, or I can make the best of that alone time and fulfill other enjoyments such as catching up on tv, reading, journaling, or catching up via technology with friends.
I'm in a very important stage of life that is challenging my growth as a person. These are the years where you find yourself and choose how you want to live. I chose happiness and every day that I wake up, I choose happiness. This perspective was told to us by our boss at work and it's something that has stuck with me, as well as mirror neurons (that's a whole different post,) but I choose to be the one that wants to brighten people's day. Now I'm choosing to be the one that brightens my own life as well as others.