School
So school started. My classes are going to be pretty hard and time consuming which is why I had to cut back on the amount of time I will be working. In order to keep my sanity, it just had to be done. Between school and running which are my two priorities, I just need some time for myself as well.
Some funny/irritating points in the day:
These girls that sat next to me in one of my classes were being very annoying. They were mad that we weren't just handed a syllabus and told to leave. One girl was like "We have been here for 18 minutes!!" and they kept saying how dumb it was. I was just thinking to myself, gosh forbid us actually be in class for the full time. I mean this is college, what do you expect? I don't think I'll be seeing them again for that class.
The microwave was broken in one of the buildings that serves food. I had a turkey and cheese wrap that I wanted to microwave and ended up having to eat it cold
They are doing major construction on campus and have the area I have classes fenced off. So I have to walk around the whole perimeter of that part of campus to get to each of my classes.
I am supposed to have a lab coat for my micro lab and everywhere is sold out of the disposable ones. Hopefully when I go visit the chemistry office they will have some to buy because I am not forking over 20-30 bucks on an actual lab coat.
I don't enjoy the heat in the afternoon and the fact all my classes require us to bring the book to class. So I'm hiking up the hills with three very large books and sweating like a mad man. Let's just say I definitely am not going to try and look good or straighten my hair because by the time I arrive to class it would be ruined haha.
Running
Monday was an off day but I went in at 6:15 to lift weights and do some core work.
Tuesday (Yesterday) we had a 5 mile tempo.
We warmed up for 1.5 miles and then were given our times. I was supposed to start around 7:20 for the first mile and at the last mile be around 6:55 pace.
That did not work out well and I straight ate it. My hip was extremely tight and so was my knee around 2 miles. But I just did my best.
Splits: 7:24 – 7:17 – 7:20 – 7:24 – 7:10
5 Miles in 36:37 [7:19 per mile]
Then we cooled down for a mile.
Total miles for the day: 7.5 miles
I then went and took an ice bath.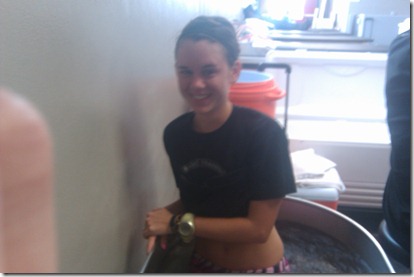 I love ice baths so much. I ended up taking two yesterday. The second one I took because I was waiting for the chiropractor to adjust my knee.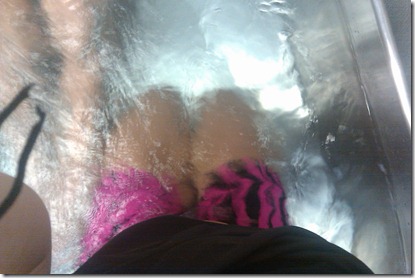 I saw the chiropractor and he said "That's a fat knee!" haha! How nice of him. He couldn't quite do the adjustments he wanted because we don't have a drop table in our training room but he adjusted it as much as he could. Then he said to give it a day and if it's not better to come to his office so he can use his table. I'll have to go see him tomorrow because it's still stiff today.
I hope everyone is having good first days back to school and then good days for those not in school

Q: Do you ever see a chiropractor? I love ours because he knows so much and is better than any other doctor I've seen here. I go to him for everything now.
Q: Do you enjoy ice baths? I LOVE them. Except the first one we had this season which was like low 40's and unbearable. My range is about 52-58 for ice baths.