So I go on and on about Honey Stingers, but honestly, they are amazing. I came home to a wonderful package yesterday!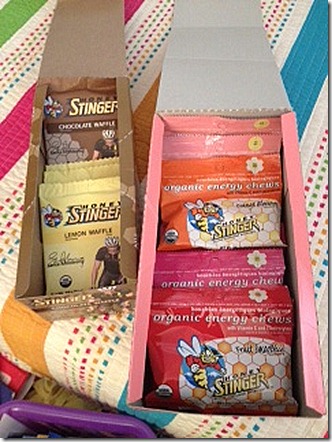 I'm pretty obsessed with the Lemon Waffles, because I love lemon sandwich cookies and these have a very similar taste to them. The chocolate ones are also new and are close competition to the lemon. I haven't really decided which one I like more, but they are the top two.
I'm really excited to try the other flavors of energy chews that I haven't had yet. Fruit smoothie sounds delicious. I might taste test them later today before I swim/run/bike. I haven't quite figured out what form of physical activity I'm doing but something equivalent to 5 miles running.
I kind of have a collection going and it is dwindling fast, even though you might not be able to tell.
The Luna and Clif Z bars are what I used to eat and we bought those ourselves. Now I'm hooked on Honey Stingers and it's no lie. I think because my stomach is extremely sensitive and I usually have to wait a long time before running if I just ate. But the waffles are very light on my stomach and perfect before a run. I also love the energy bars if I have hours before running but don't want something heavy to eat, and sometimes I eat them after because they are just delicious.
So since HoneyStingers is partnered with Lance Armstrong, it reminded me of the Tour de France! This is big in our family and we are big Mark Cavendish fans. His incredible good looks and charming accent may help, but his speed on two wheels is quite amazing.
*swoon*
My father wrote a blog post about the Tour as it is now over, you should go check it out
After we watched Cav win the final stage of the tour, we carried on with our tradition of Pancake Sunday
I love pancakes with crunchy peanut butter and syrup on top. Very filling and delicious!
You should really follow me on instagram if you want full updates on my life, because I instagram like crazy.
instagram name = samthierry
*I received the products above for free but the opinions are my own