So, since I have gotten my Kindle Fire a few months ago, I have been reading more. I try to read at least a couple of pages before bed each night, since I have been really busy with school. I love when I have time to read more than just a couple minutes, but that is rare. Thankfully summer is coming up!!!! WAHOO!
Anyway, I just finished Always the Baker, Never the Bride by Sandra D. Bricker. I saw this book as one of the daily kindle deals and it was free along with the third book in the series.
Here is the summary from Amazon:
"Thirty-six-year-old Emma Rae Travis has been baking specialty cakes and melt-in-your-mouth pastries at The Backstreet Bakery in historic Roswell, just outside of Atlanta, for the last six years. But here's the rub about her job as a baker … Emma is diabetic. When she tastes her creations, it can only be in the most minute portions. Emma is considered an artisan for the stunning crème brulee wedding cake that won her the Passionate Palette Award last year, but she's never even had one full slice of it.
When Jackson Drake hears about this local baker who has won a prestigious award for her wedding cake artistry, he tells his assistant to be sure and include her in the pastry tastings scheduled at his new wedding destination hotel the following week. And for Jackson, that particular day has started out badly with two workmen trapped in a broken elevator and a delivery of several dozen 300-thread-count bed linens in the wrong size abandoned in the lobby. But when the arrogant baker he met a week prior in Roswell stumbles into the dining room with a platter of pastries and a bucketful of orders, he knows for certain: It s going to be a really rotten day.
Can these two ill-suited players master the high-wire act and make a go of their new business venture? Or will they take each other crashing downward, without a net? And will the surprise wedding at The Tanglewood be theirs?"
I was pulled in by the story of a baker who is diabetic. Not only have I loved baking for many years now, but I thought it would be a great story since she cannot eat much of her own creations. This book didn't take me very long to read. This was my reading progress according to my Goodreads.

It was definitely a quick read and here is my rating: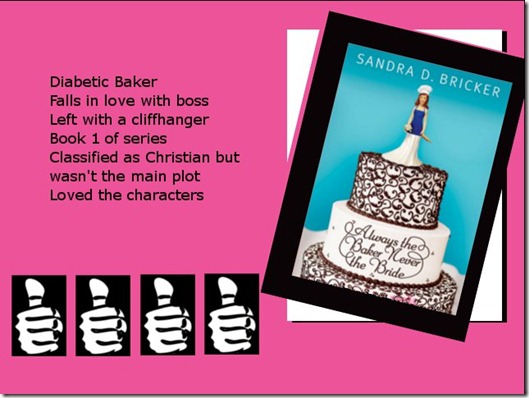 So if you are interested in purchasing or want to sample some of the book, click below! Enjoy!