I survived! The GRE is officially over. I apologize for my lack of blogging, but you probably can tell that school has started back up again and this year is pretty hectic.
I'm balancing the following things:
Strength and Conditioning Internship
Full time Senior Dietetics Student
Working as a Pharmacy Technician
Studying for the GRE
Working on Grad/Internship Applications
Running Cross Country
Maintaining my sanity
I would say I'm doing a pretty great job, but I rarely get time to breathe. I'm go go go. Which honestly, I don't really mind because I enjoy being busy. Since the GRE is over with, I *may* have a bit more free time and to post more often.
In the meantime, as part of my Strength & Conditioning internship, I am providing a comparison handout once a month on the food items you can get at the grocery store versus eating out and the amount of food you can get for the same price as well as the nutritional differences.
My first assignment was the amount of food you could get for $20. We chose McDonald's as our first eating out destination because we are assuming the places our athletes go to eat the most. McDonald's is close to campus and "cheap."
Here is what I came up with: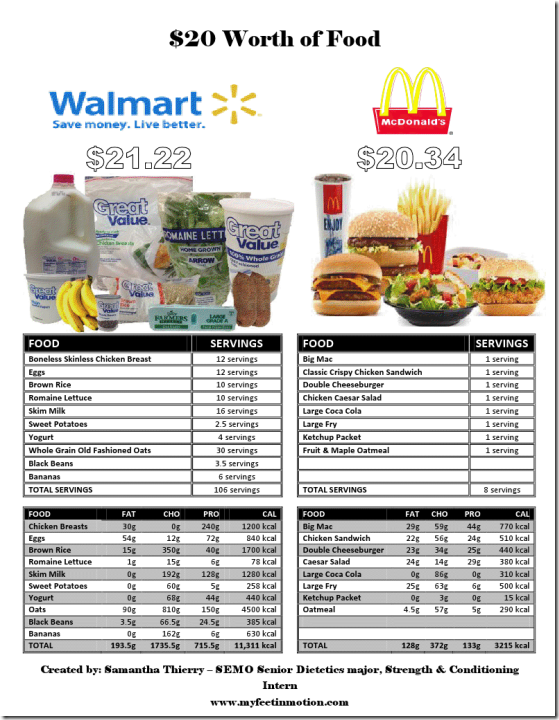 I have better quality versions if you are interested in using, you can email me at snthierry[at]gmail[dot]com.
Hope you all are doing wonderful!!