Running
I'll keep my fingers crossed that I can continue my training after seeing the doctor on Friday. This week is kind of my first "real" week back to training, but here's what I did last week":
M / 5.14.12 – 2 mile-ish run: 16:31
T / 5.16.12 – rest
W / 5.17.12 – rest
R / 5.18.12 – 2.5 mile-ish run: 19:46
F / 5.19.12 – rest
S / 5.20.12 - rest
S / 5.21.12 – 4 mile total, 3.1 mile race: 23:20
Blog
The blog got a fb page. It's obviously "in the works" and not quite the greatest, but hop on over and like it if you want

https://www.facebook.com/myfeetinmotion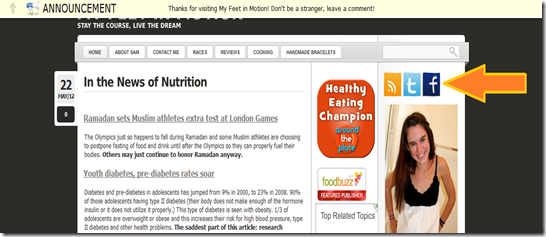 Read
Here's a blog you may be interested in reading http://ourtheoryonlife.blogspot.com/
The authors of the blog are my mom and dad actually and they post about trips they've taken, feelings on daily happenings and recipes. Some good posts you may be interested in:
Review of John Mayer's New Cd, Born and Raised
Aunt Emma's Pancakes in San Diego
Hash House A Go Go in Las Vegas
Were your favorite TV shows renewed or cancelled?
They post very frequently and the topics range widely so it's always interesting to visit.
---
Another blog to read about is from Bob Schwartz, the author of "I Run, Therefore I am-Nuts!" and the newest, "I Run, Therefore I am – Still Nuts" which will be available October 8 of 2012 according to Amazon.
The book itself takes on every bit of training and every bit of why we are crazy/runners

Schwartz has started up a blog http://runninglaughsblog.com/bobs-blog/
If you love running and enjoy the humor of it all, you will love Schwartz's blog and book(s)!!!
---
Q: Have you read I Run, Therefore I Am – Nuts?
Q: What did you think of John Mayer's Cd?
Q: How's your training going?