Have you heard of the Miwok 100k? I had not until I was contacted with some footage of the race.
It's a 100k Trail Run. I cannot even imagine running 100k, especially on trails. This course looked beautiful, especially at the 3:53 minute mark in the video. So pretty on that hill.
This video was made by Jim at Hydrapak. I decided to also check out some of their products and they are some of the coolest things I have seen. It takes refueling to a whole new level. So if you have a long endurance race such as a marathon, ultra, or long bike ride, these are perfect!
Some of the products I thought were cool:
Gel-Bot
This is the coolest thing I have seen. If you use energy gels, you probably want to check this bottle out.
You load the middle part with however much gel you want. Then you fill the bottle up with water. When the nozzle at the top is closed, you can squeeze to get gel. And then you just open the nozzle at the top to squeeze and get water. How awesome is that?! They even provided a video.
This bottle is conveniently priced at $13.99
Which is pretty much a steal considering how much water bottles cost these days.
Soft Flask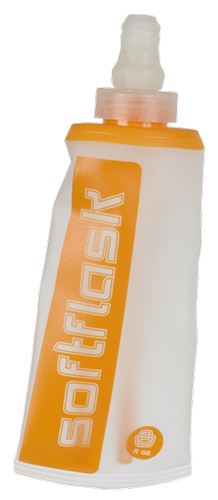 This is a soft flask, much like it's name. It folds up on itself therefore allowing you to get all the gel out. What is great in my opinion is that it can be used with water and electrolyte mix as well. Or like the end of their video says, you can even put things like applesauce in it. So it's a convenient little bottle!
I just think those two are the coolest things!
You can find more products and information
on their website
twitter: @hydrapak
**I was contacted with the footage of the Miwok 100k, however all opinions expressed in this post are my own.
Don't forget about my profoot giveaway! There will be THREE winners! Check it out